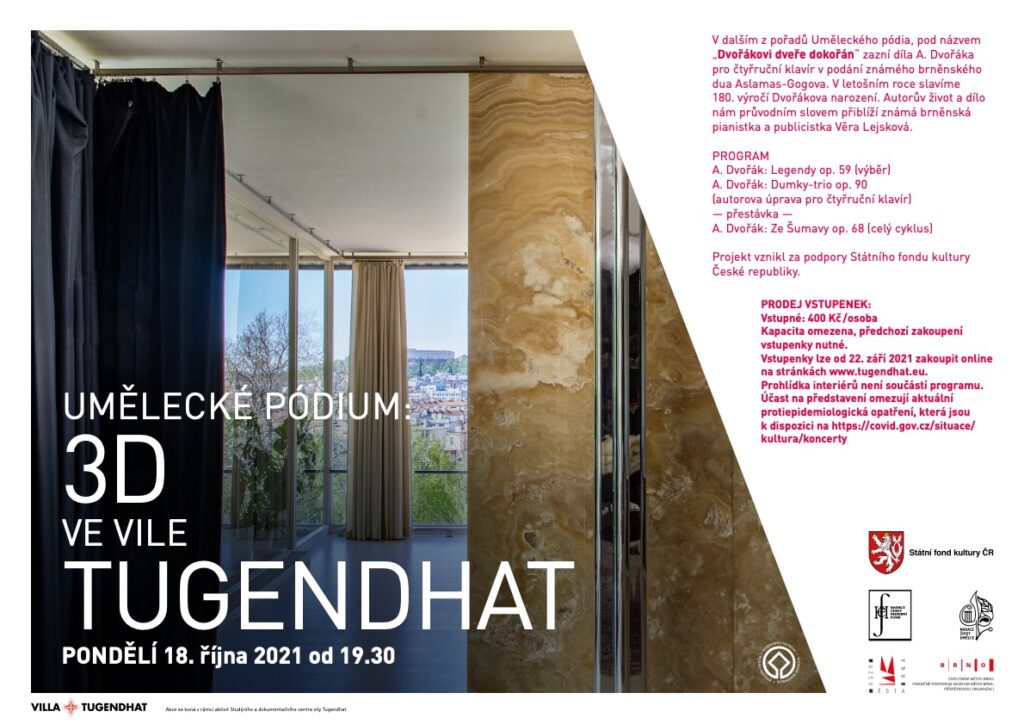 Programme
A. Dvořák: Legends Op. 59 (selection)
A. Dvořák: Dumky – trio Op. 90 (arranged for four-hand piano)
— intermission —
A. Dvořák: From Šumava Op. 68 (complete cycle)

The performers
Pianists Inna Aslamas and Ema Jedlička-Gogova have been playing together in a piano duo for over fifteen years after they met while teaching in the Czech Republic.
Both Inna Aslamas and Ema Jedlička-Gogova were already active in piano duo during their studies in their native countries (Russia and Macedonia) and had already given numerous concert performances and recordings for local radio and television.
After meeting in the Czech Republic in 2003, they founded the Aslamas – Gogova duo, whose repertoire includes major works by world composers for four-hand piano as well as for two pianos or two pianos with orchestra. Their concert activity is broad and versatile, they intensely focus on works by Czech composers, as well as on classical, romantic and modern music. They regularly perform at concerts of the Moravian Composers Club and make recordings for Czech Radio. In 2008, they realized the "Unique Bach" project with great success, which featured J. S. Bach concertos for one, two, three and four pianos with orchestra were performed in the Czech Republic and Germany in cooperation with the Petrof company, or the extensive international project "Beethoven on the Road". They have given concerts in the Czech Republic and abroad and have also performed at important international festivals such as the Ohrid Summer in Macedonia or repeatedly at the opening of the International Schubert Competition for piano duos.
In addition to piano duos, they also perform chamber music in collaboration with other instrumentalists and singers, and have won numerous awards for piano accompaniment at competitions and festivals.
They are both active teachers and successfully prepare their students for national and international piano competitions and other important cultural events (Concertino Praga, Macedonium M 2007, Per quattro mani, Dvořák's Lipník, Moravian Autumn and the International Schubert Competition for piano duos in Jeseník).
Tickets
400 CZK / person
Capacity is limited, advance ticket purchase required.
Tickets can be purchased online from 22 September 2021 at www.tugendhat.eu.
A tour of the villa interior is not included in the programme.
Attendance is limited by the current anti-epidemiological measures, which are available HERE.
Information
Tel.: +420 515 511 015 / 017
E-mail: info@tugendhat.eu