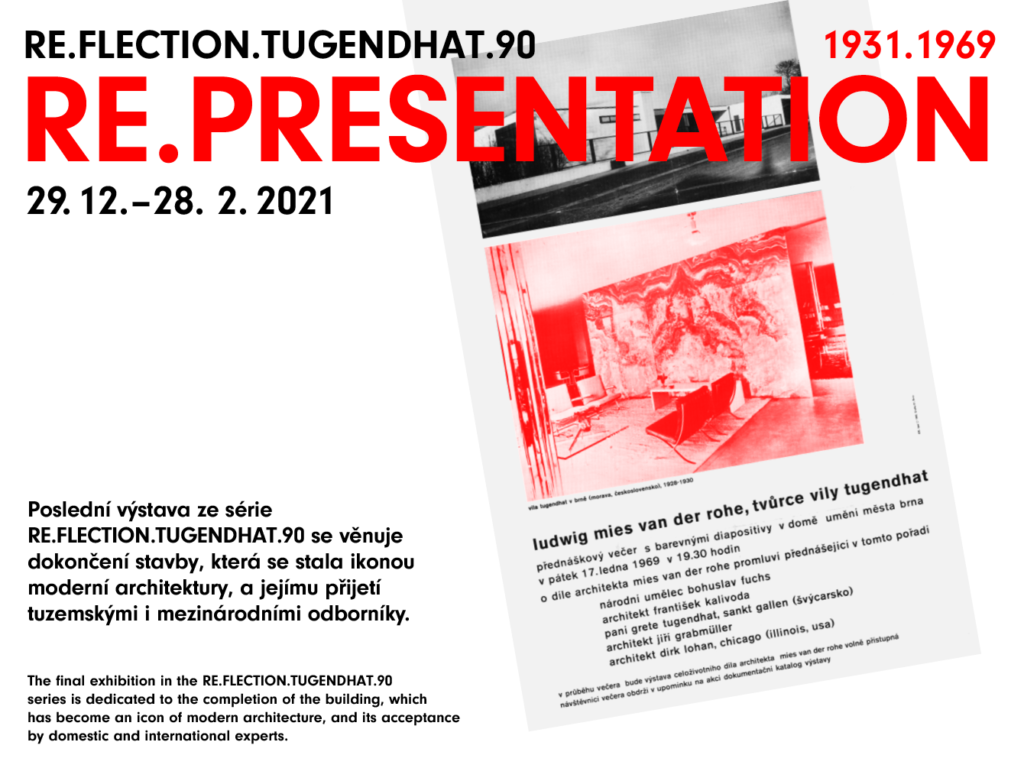 15/12/2020 – 28/02/2021 / postponed to 15/6/ – 6/7/2021

The final exhibition, prepared by the Study and Documentation Centre for the 90th anniversary of the Villa Tugendhat completion, presents a professional media reflection of Villa Tugendhat after its completion and later in the 1960's, when architecture theorists rediscovered interwar modernity. Curators Henry-Russel Hitchcock and Philip Johnson in particular contributed to the villa's international reputation in the 1930's, when it was included in a travelling exhibition The International Style at the Museum of Modern Art in New York in 1932. During the exhibition, you will be able to learn about the most fundamental theoretical texts written between 1931 and 1969.
The exhibition should be presented as a part of the 90th anniversary celebrations in 2020, since it could not be seen in the planned term (because of corona virus pandemic), we decided to extend the duration of the exhibition.

Exhibition concept: Lucie Valdhansová, Barbora Benčíková, Ludmila Haasová, Neli Hejkalová
Architectural design: Studio PIXLE
Graphic design for exhibition and printed material: Studio PIXLE
Proofreading: Kateřina Havelková Štěpančíková
Translation: Kateřina Báňová
Acknowledgement: Heidelberg University Library, Moravian Library, Museum of Modern Art New York
Exhibitions on the Tugendhat Villa's technical floor are open from 21 November to 27 December 2020 within the villa's opening hours without prior reservation.
Admission: 50 CZK
The exhibition was prepared by the Tugendhat Study and Documentation Centre and has been realized with financial support from the Ministry of Culture of the Czech Republic. The exhibition is part of the Villa Tugendhat 90 celebrations held under the auspices of the Czech UNESCO Commission.