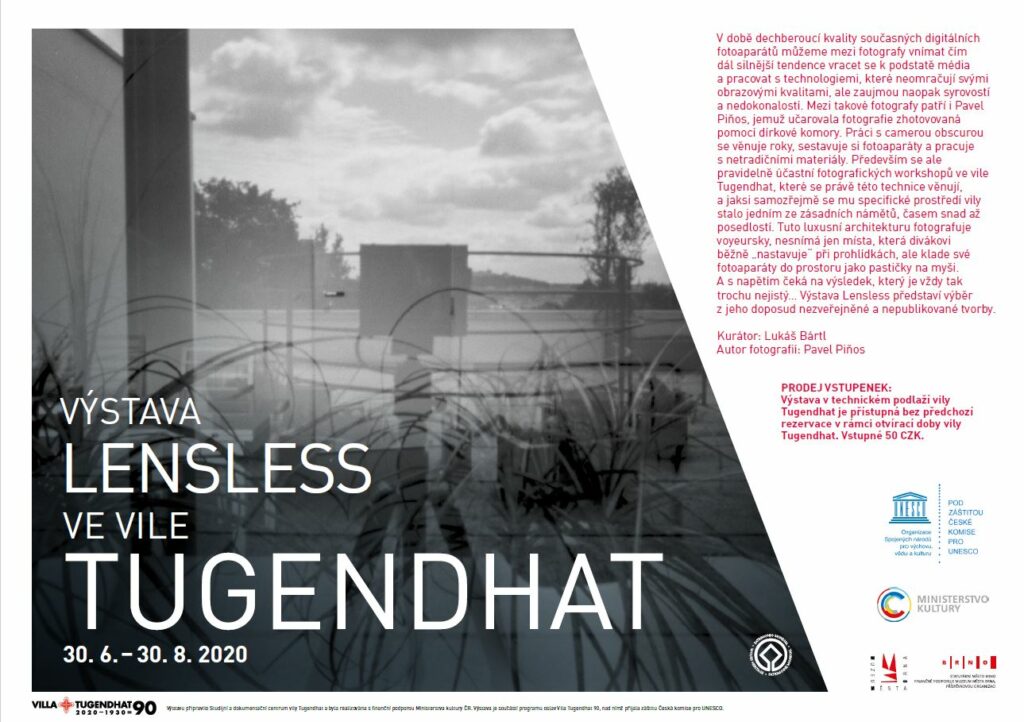 At a time when contemporary digital cameras have reached truly breathtaking levels of quality, there is an increasing trend among photographers to return to the medium's essence by working with techniques that do not stun us by their visual quality but captivate us by their rawness and imperfection. One example is the photographer Pavel Piňos and his fascination with pinhole photography. Piňos has worked with pinhole cameras for years, building his own cameras and working with unusual materials. Most importantly, however, he is a regular participant in photographic workshops on the subject of historical techniques held at Villa Tugendhat, and so the villa and its surroundings have become one of his main themes, if not a downright obsession. He often photographs the building's luxurious architecture a little like a voyeur, capturing not only those areas that viewers regularly "visit" on tours of the site, but also placing his cameras around the building like mousetraps, waiting with baited breath for the outcome, which is always a little bit uncertain. Lensless presents a selection of his previously unexhibited and unpublished work.
Lukáš Bártl
Photographs: Pavel Piňos
Curator: Lukáš Bártl
Curators for Villa Tugendhat: Lucie Valdhansová, Barbora Benčíková, Ludmila Haasová

Exhibitions on the Tugendhat Villa's technical floor are open from 30 June 2020 to 30 August 2020 within the villa's opening hours without prior reservation.
Admission: 50 CZK.
The exhibition was prepared by the Tugendhat Study and Documentation Centre and has been realized with financial support from the Ministry of Culture of the Czech Republic. The exhibition is part of the Villa Tugendhat 90 celebrations held under the auspices of the Czech UNESCO Commission.
INFORMACE
Tel.: +420 515 511 015 / 017
E-mail: info@tugendhat.eu