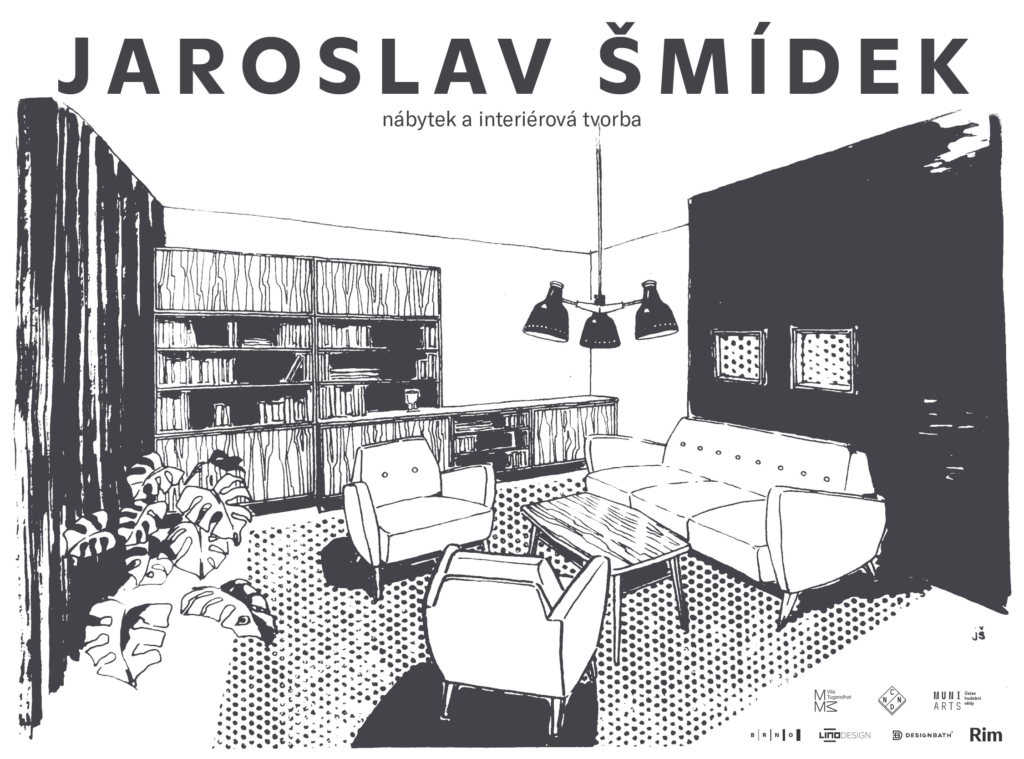 Exhibition opening: Tuesday 2 May 2023, 18.00
Exhibition: 3 May – 4 June 2023 (open without reservation Tue–Sun 10:00–18:00)
Lecture with a guided tour of the exhibition: 18 May 2023, 18.00
Guided tour of the exhibition: 31 May 2023, 16.30
Organisers: Brno City Museum; National Centre for Furniture Design, o. p. s.
Exhibition curators: Dagmar Koudelková, Karolína Kouřilová
Villa Tugendhat curator: Michal Kolář
Graphic design: Matěj Doležel
Architectural design: POSTROP
Translation: Kateřina Báňová
Production and PR: Barbora Benčíková, Petr Dvořák, Ludmila Haasová, Michal Kolář – Villa Tugendhat Study and Documentation Centre
---
The National Centre for Furniture Design is a non-profit organization based in Bystřice pod Hostýnem, founded in 2013 with the aim of contributing to the development of furniture design and the protection of cultural wealth in our territory. In cooperation with the town of Bystřice pod Hostýnem, NCND participates in the meaningful use of the local castle, organizes exhibitions focused on furniture and housing culture dedicated to contemporary design and the presentation of young creators and schools, as well as important historical periods and important figures. Currently, it focuses mainly on 20th century furniture and documenting the post-war furniture industry. It organises annual conferences, lectures and workshops, provides consultancy services on the development of industrial design, and supports student design.
PhDr. Dagmar Koudelková (*1965)
Art historian. Since 2010 she has been working at the Faculty of Arts of Masaryk University in Brno, since 2013 she has also been the director of the National Centre for Furniture Design. She focuses mainly on the issues of bentwood furniture, interwar housing culture and 20th century design. As curator of the furniture collection of the Moravian Gallery in Brno (1990–2001) and later as curator of exhibitions of the Design Centre of the Czech Republic (2002–2007), she participated in a number of large exhibition projects (Princip Thonet, Czech Cubism, František Bílek, Antonín Procházka, etc.) and prepared dozens of smaller exhibitions. In 2000–2003 she was the curator of the Czech and foreign design shows within the Art & Interior project at the Trade Fair Palace of the National Gallery in Prague, 2006–2011 curator of the Designstory project, and since 2012 curator of the Grand Prix Mobitex student show within the Mobitex fair. She is the author of the publications Jiří Pelcl. Subjective x Objective (ERA 2006) and Atika 1987–1992. Emotion and Form (ERA 2007) and co-author of the publication Jindřich Halabala and the United Arts and Crafts Works in Brno (ERA 2003, Grada 2018).
Mgr. Karolína Kouřilová (*1996)
A student of the Digital Culture and Creative Industries PhD programme at the Faculty of Arts, Masaryk University in Brno, she focuses on Czechoslovak post-war furniture, especially on the work of architect and designer Jaroslav Šmídek: in her bachelor thesis (2019) she worked on his furniture creations, in her diploma thesis on public interior design (2021). Since 2019, she has been involved in the activities of the National Centre for Furniture Design, a public benefit society, and in the preparation of exhibitions and conferences. She cooperates in the organization of the Grand Prix Mobitex student work shows at the Mobitex furniture and interior design fair in Brno (2020, 2022, 2023). As part of her dissertation, she is researching the Furniture Industry Development in Brno with the intention of creating a database of authors and products with a link to the given enterprise.
Website: www.ncnd.cz
Instagram: https://www.instagram.com/ncnd.cz/
FB: https://www.facebook.com/profile.php?id=100064492734554