A second showing of the exhibition Jan Vaněk 1891–1962. Civilized Housing for Everyone will take place in the main building of the City of Prague Museum at Florenc from the 3rd of March up until the 22nd of August 2010. This exhibition and publication project, initially organised by Mr. Jindřich Chatrný in the Brno City Museum in the year 2008, is the first to present in a complete fashion the life and creative 'story' of the architect Jan Vaněk. 
Through his work Jan Vaněk significantly influenced the between-the-wars progressive avant-garde in terms of the overall conception of interior and furniture design, not only as an artist and designer, but also as a theoretician, publicist, teacher and business man. He cooperated with Le Corbusier, Adolf Loos as well as with Ludwig Mies van der Rohe. Vaněk's company Standard bytová společnost (S.B.S.) carried out at practically the same time the interior furnishings of both Mies' Tugendhat Villa and Loos' Müller Villa.
The exhibition in the City of Prague Museum has a new architectural and graphic design with a range of exhibited items which were not presented in the initial Brno exhibition due to space limitations. The film director Tomáš Řehořek has created a documentary series "The Life and Creative Journey of Jan Vaněk over the Evolution of Time" especially for the Prague exhibition.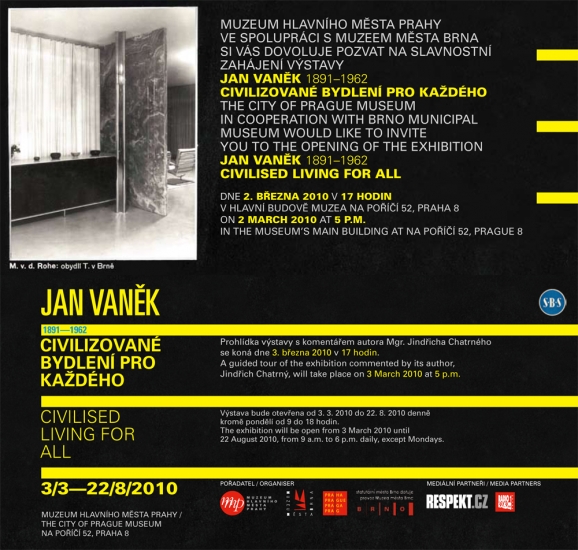 Jan Vaněk 1891–1962. Civilised Living for All

"Things are made by people and for people. That is not too little. On the contrary, it means a lot, because it is a big mission and a big responsibility, too."                
Jan E. Koula

Jan Vaněk belonged to a generation of artists who directly participated in a genesis of modern design in individual art disciplines; later he contributed to the overall conception of interior design in the inter-war period. He brought new creative concepts, intentions and programs into the production of furniture in all its wide-ranging spectrum. He was not only an artist and creator but also a theorist, publicist, pedagogue and entrepreneur. Each of these "roles", more or less successful, had a far-reaching significance for creating and fulfilling new ideas and directions in this specific area of human activity.
Jan Valerián Vaněk was born January 13, 1891, in Třebíč. His father owned a flourishing cabinet-making workshop. Family tradition of furniture business as well as his father's wish brought him to Technical School of Woodworking in Chrudim (1905–1909). After that he left for Germany where he was gaining practice with renowned furniture-making companies. When he returned in 1911, he took over the family business in Třebíč, reorganized it and enlarged under a new name "Umělecko-průmyslové dílny" (Workshops of Decorative Art). This company became one of the production bases of emerging company Spojené uměleckoprůmyslové závody (UP) (United Works of Decorative Art) in 1921. In the years to follow, UP was the largest and most progressive furniture-making company in Czechoslovakia. It was in this company where Vaněk realized his projects of basic elements (bookcases and cabinets) of unit furniture. These pieces became the outset of later renowned unit furniture sets by UP which were produced mainly according to projects of architect Jindřich Halabala.
In 1925 Vaněk left not only the position of managing director, but the company as such. In the years to follow, he established several companies of his own, first in Brno, later in Prague. They were all associated with interior design: S. B. S. Brno = Standard bytová společnost Brno (Standard Housing Company); PMB Praha = Poradna moderního bydlení (Advisory Centre for Modern Living); DDZ Praha = Dílny pro dům a zahradu (Workshops for House and Garden).
He was active in publishing, too. His periodical Bytová kultura (Housing Culture), volume 1924/1925, in Czech and enlarged German version is considered to be one of the most progressive deeds in promoting modern trends especially in the field of interior design. Jan Vaněk was publishing professional articles, essays and commentaries in many other magazines and sat also in their editorial boards.
Vaněk co-operated with a number of local as well as foreign personalities – Bohuslav Fuchs, Jan Kotěra, Jaroslav Grunt, Adolf Loos, Le Corbusier, Ludwig Mies van der Rohe, Bruno Paul, Amédée Ozenfant, Walter Gropius and others.
Even though Vaněk did not have specialist education in this field, he produced series of architectonic and urbanistic projects. He is an author of small-size houses in Černá Hora (1925), in Brno (1925–1926) and residential colony in Rybitví (1939–1941). He also designed renovation and addition of buildings for children's medical centre "The Healthy Generation" in Chocerady (1934–1935). With Ferdinand Fencl he produced project for Masaryk sanatorium in Dobříš which until today is a relevant and perfect example of architectural and interior concept of a building for such a purpose. He was an author of urbanistic study for manufacturing plants and administrative buildings of Spolek pro chemickou a hutní výrobu in Prague (East Bohemian Chemical Works, today Synthesia) in Rybitví, realized in years 1938–1941.
In 1939–1944 Vaněk lectures at School of Arts in Zlín, he designed number of exhibition projects pro Museum of Decorative Arts in Prague and Baťa's school in Zlín. After the war, he participated in forming new concepts of development and production for wood-working companies.
Life and career of Jan Vaněk finished on August 13, 1962. In him, a person died whose activity, invention and organizational skills influenced the inter-war modern avant-garde and whose production in the field of interior design was always focused on the needs of  general public – precisely in compliance with his life credo "For good living of everybody".