You can open the virtual tour here.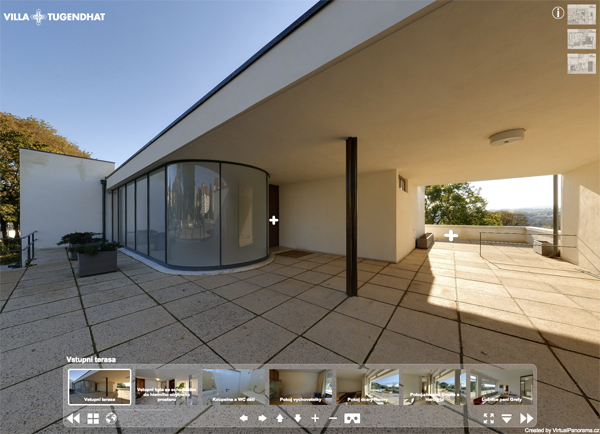 No photograph of this house can convey the right impression. One has to move around in this house, its rhythm is like music.
Ludwig Hilberseimer, 1931
The virtual tour was composed during late summer of 2012, and records the status of the Tugendhat Villa after the last monument renewal and a restoration, which took place in 2010–2012.
The tour shows a total of 32 places which visually interact with each other and a visitor can view the Villa Tugendhat through them.
Passages to other rooms are marked with a white cross. A room can be also directly selected on the bottom panel of thumbnail photos.
The bottom bar includes a navigation system allowing to change the viewing angle, to zoom in and out or switch to whole screen.
The viewing angle can also be changed by holding the mouse button and moving the cursor inside the photo. The mouse wheel then brings things closer or further.
Active ground plans of each floor are located in the upper right corner. By selecting one floor and the place from which you want to see the space, you can move through the building directly to the places you wish to see.
The tour is functional for PC and mobile devices iPhone, iPad and Android.
---
This Virtual tour was produced by VirtualPanorama.cz in 2012.
Photo: Martin Hrdlička, David Židlický.