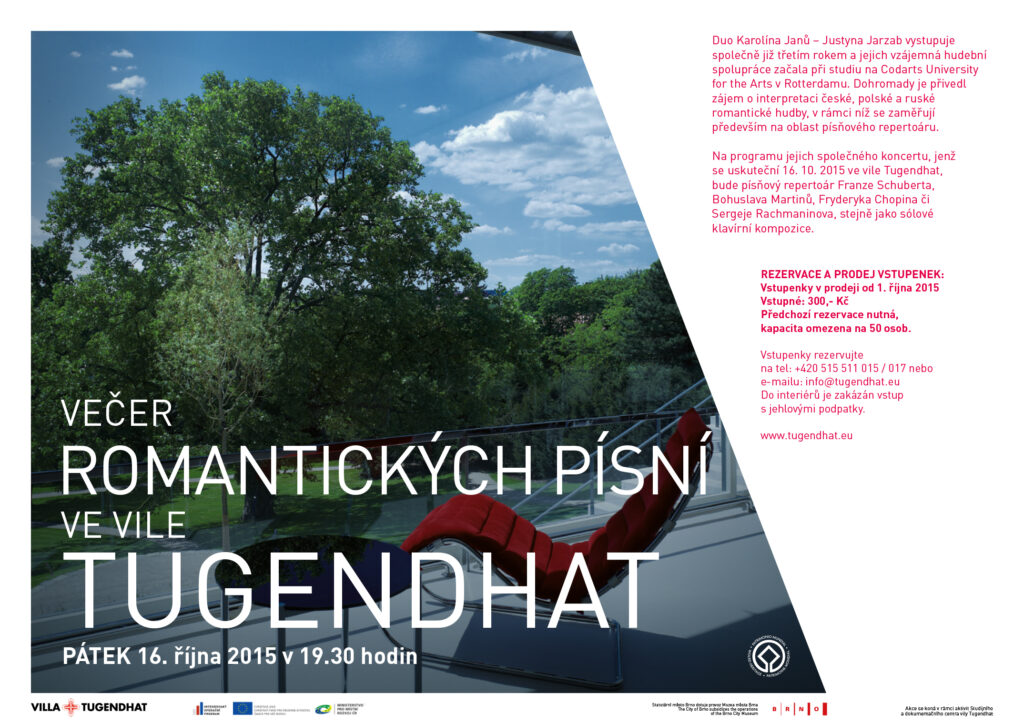 On Friday, 16th October 2015, the main living room of Villa Tugendhat will resound with tones of the icons of the world of classical music, Frederic Chopin, Franz Schubert, Johannes Brahms and Bohuslav Martinů. Soprano Karolína Janů and Polish pianist Justyna Jarzab will present their art to the audience. This duo has been performing together for three years and their mutual musical collaboration began while studying at Codarts University for the Arts in Rotterdam. They were brought together by their interest in the interpretation of Czech, Polish and Russian Romantic music, focusing mainly on the song repertoire.
Pieces that will be heard during this unique evening include for example, Chopin's Nocturne in B-flat major (Op. 32), or Songs on a Single Page by Bohuslav Martinů.
TICKET RESERVATION AND SALE:
Tickets are on sale from 1st October 2015
Ticket price: 300 CZK
Prior reservation necessary, capacity is limited to 50 persons.
Reserve your tickets at +420 515 511 015 / 017 or by e-mail at info@tugendhat.eu
Stiletto heels are not permitted in the interior of the villa.
You can download a poster here
Complete concert programme can be downloaded here