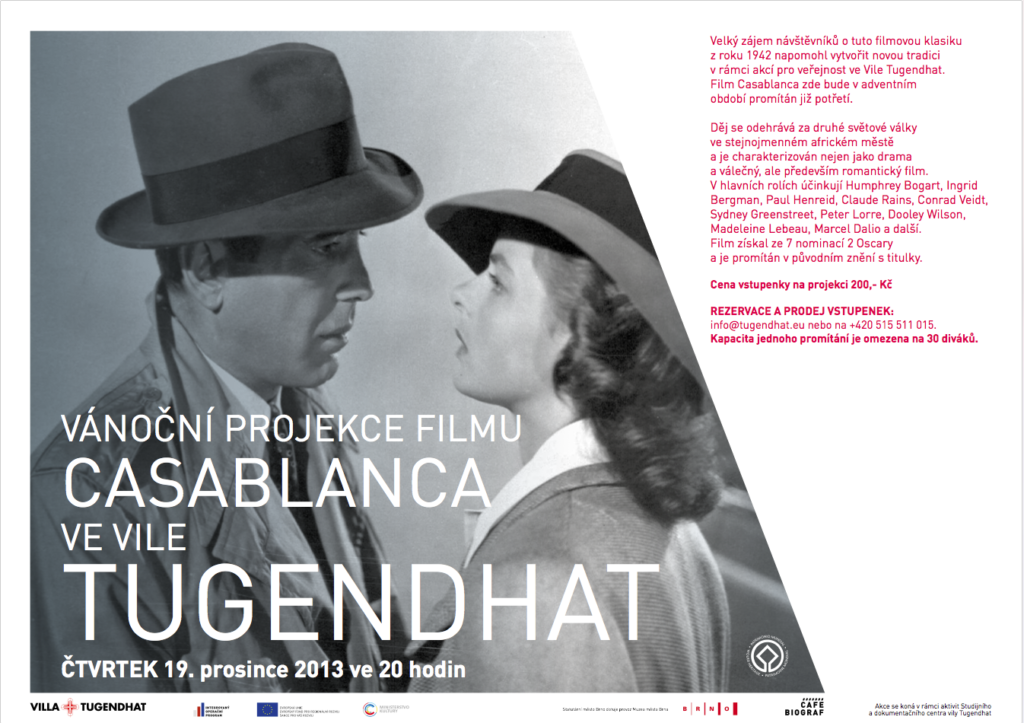 Thursday 19 December 2013 at 20:00 will be the date for the traditional Christmas screening of Casablanca in the main living area of Villa Tugendhat.
Visitors' great interest in this film classic from 1942 helped to create a new tradition among the public events in Villa Tugendhat.
Casablanca Film will be screened for the third time. It is set during the Second World War in the African city of the same name and is described not only as a war drama, but also a romantic film.
Starring Humphrey Bogart, Ingrid Bergman, Paul Henreid, Claude Rains, Conrad Veidt, Sydney Greenstreet, Peter Lorre, Dooley Wilson, Madeleine Lebeau, Marcel Dalio and others.
The film received 2 Oscars out of 7 nominations and will be screened in the original language with subtitles.
Ticket price to the screening is CZK 200.
TICKET RESERVATIONS AND SALES:
Reserve your ticket at info@tugendhat.eu or at 515 511 015/16.
Sale begins on 26 November 2013.
The capacity of one screening is limited to 30 people.
Stiletto heels are not permitted in the interior of the villa.