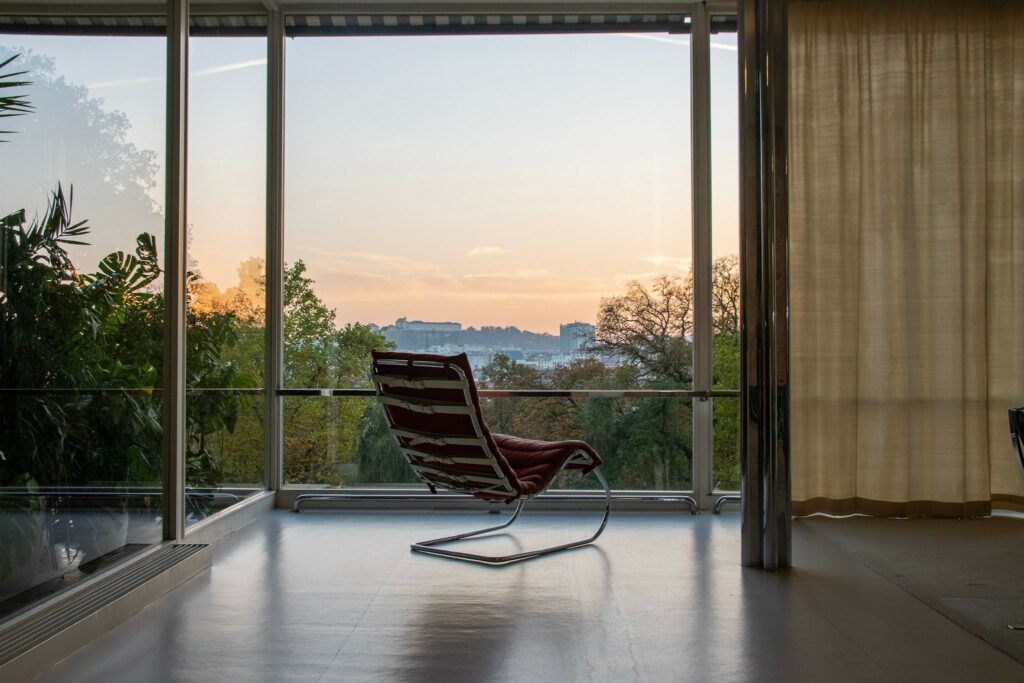 The eighty-minute Patterns in a chromatic field piece is one of Feldman's finest, and its appeal to third-generation performers seems directly proportional to the unpretentious virtuosity it demands. The Brno premiere will be performed in the iconic setting of the Villa Tugendhat living room by Matthias Lorenz (cello) and Miroslav Beinhauer (piano).
Ticket sales
Admission: 400 CZK/person. Capacity is limited, advance ticket purchase required.
Tickets can be purchased from 24 November 2022 HERE.
A tour of the villa is not included in the programme.
Matthias Lorenz
Matthias Lorenz was born in 1964 in the German Bensheim, Bergstrasse district. He studied cello in Frankfurt am Main with Gerhard Mantel. Even before starting his studies, he decided to focus on contemporary music, and although it was not possible to study its performance as a major, he was able to devote himself to it sufficiently thanks to the relatively benevolent curriculum. After graduating, he became a freelance cellist and devoted himself primarily to performing contemporary music. In addition, he is also active in other musical fields – in the fringe genres of rock and pop (together with Albrecht Kunz and Irmin Schmidt, a member of the band Can), stage music (which included, among other things, collaborations with the Frankfurt Ballet) and improvisation. His solo work was gradually joined by his participation in chamber ensembles such as the Elole Piano Trio and Ensemble Courage. Since 2011 he has been a member of the Ostrava Banda.
Miroslav Beinhauer
Miroslav Beinhauer (*1993) as a pianist and player of the sixth-tone harmonium focuses on contemporary and 20th century music. He has collaborated with composers such as Klaus Lang, Bernhard Lang, Georg Friedrich Haas, Marc Sabat and Petr Bakla, and has participated in festivals such as Musikprotokoll, Strings of Autumn, Ostrava Days, Moravian Autumn, Janáček Brno, Musical Forum Hradec Králové and has performed with orchestras and ensembles including the Janáček Philharmonic Ostrava, Hradec Králové Philharmonic, Kubín Quartet, Ensemble for New Music Tallinn, Brno Contemporary Orchestra and String Noise. His notable performances include Magnus Lindberg's Piano Concerto No. 2 (conducted by Heiko Mathias Förster) and Esa-Pekka Salonen's Piano Concerto (conducted by Marko Ivanović). Beinhauer is also a sought-after chamber musician, a member of the Ostrava Banda (collaborating with conductors such as Bruno Ferrandis, Johannes Kalitzke, Petr Kotík and Owen Underhill). He has recently participated in several studio recordings, including two solo CDs with compositions by Petr Bakla and Milan Knížák. He also regularly records for Czech Radio.
Miroslav Beinhauer is the only person in the world who can play Alois Hába's unique sixth-tone harmonium. His interest in this instrument began in 2018 with the premiere of Hába's sixth-tone opera Thy Kingdom Come, and continued with the premiere performance and recording of his only solo opus for this instrument, Six Pieces for the Sixth-Tone Harmonium, Op. 37.