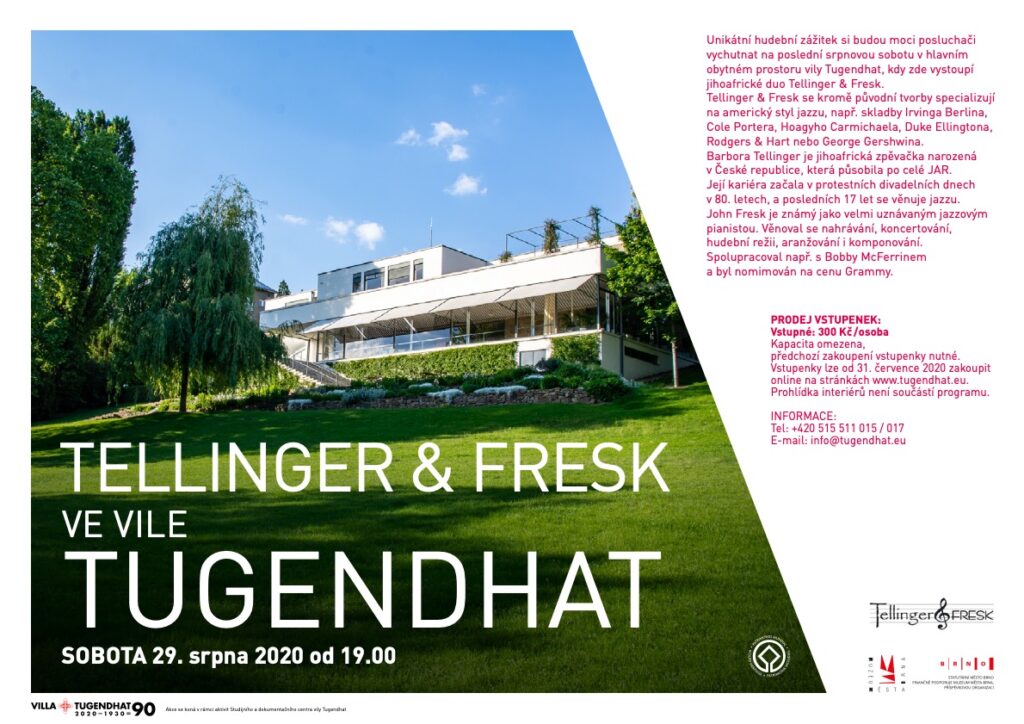 In addition to original works, Tellinger & Fresk specialize in an American style of jazz, i.e. compositions by Irving Berlin, Cole Porter, Hoagy Carmichael, Duke Ellington, Rodgers & Hart or George Gershwin.
Barbora Tellinger is a Czech born, South African singer who has been performing throughout South Africa. Her career began in the era of Johannesburg's protest music of the 1980's. For the past 17 years her focus has been on jazz.
John Fresk is a highly respected jazz pianist. He focused on recording, concert performing, music directing, arranging and composing. He collaborated with Bobby McFerrin and Chick Corea among others and was nominated for a Grammy Award.
Website: https://tellingerandfresk.com/
TICKET SALE
Admission: 300 CZK
Capacity is limited, prior ticket purchase required.
Tickets can be purchased online at www.tugendhat.eu from 1 July 2020.
A tour of the villa interior is not part of the programme.
INFORMATION
Tel.: +420 515 511 015 / 017
E-mail: info@tugendhat.eu