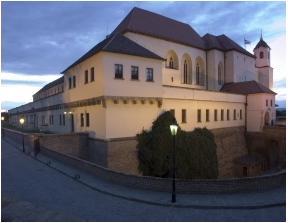 Saturday the 14th and Sunday the 15th of September 2013, Špilberk Castle opens in an extent it had never been open to the public so far, on the occasion of the anniversary of the establishment of the Brno City Museum. The motto "Špilberk Lives", will be open up the castle, making it possible to enter the castle through both entrances, he east entrance, over the brick bridge and the west entrance, across the restored wooden bridge. Visitors will be able to see the newly renovated premises of the south wing, the current interactive exhibition Games Crystallisate, all the permanent exhibitions, walk through the ancient walls hidden in the southwest bastion, look into a Renaissance salon, enter a Baroque chapel, step onto the eastern bastion with spectacular views to the east and northeast of Brno and of course climb the castle tower or go down to the casemates.
During both weekend days, games, competitions, music, fencing and theatrical performances are prepared for visitors young and old as part of the accompanying programme, together with various small surprises, making sure the visitors have a good time and enjoy Špilberk throughout the day.
The main entrance to the castle grounds (box office) will be through the casemates, but visitors with purchased tickets will be able to enter through both the entrance gate from Gorazdova Street as well as the covered staircase from Husova Street.
General admission for adults is 150, – CZK, prices for children and families will be reduced.