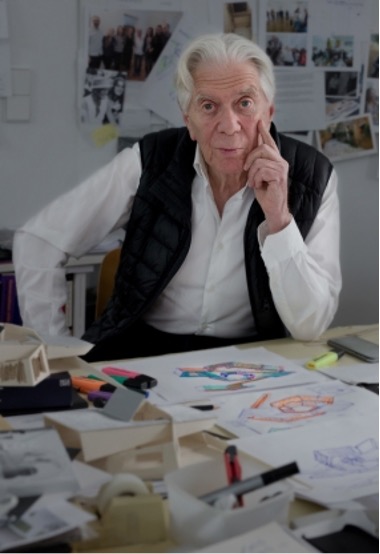 Exhibition opening "House Neumeister" and a presentation of works by the architect Zvi Hecker.
"House Neumeister"
Exhibition of Zvi Hecker Sketches in Villa Tugendhat
Villa Tugendhat designed by Ludwig Mies van der Rohe in 1930 exhibits drawings and sketches done by Zvi Hecker in 2017–2018 for the "House Neumeister" located in Monte Fumo, Itri, between Naples and Rome.
It is a silent dialogue between two family houses, designed in different time and different locations.
The exhibition shows the lengthy process of design of "House Neumeister" in a series of consecutive sketches.
Exhibition on the Tugendhat Villa's technical floor is open from 10 May to 3 June 2018 within the villa's opening hours without prior reservation.
Zvi Hecker
Israeli architect of Polish origin Zvi Hecker was born in Krakow in 1931. He spent the war years in Samarkand in Uzbekistan. In 1950 he began studying architecture at the Polytechnic in Krakow, later emigrated to Israel and continued his studies at Technion Institute in Haifa.
His professor Alfred Neumann subsequently employed him in his studio. After Neumann's death in 1968, Zvi Hecker established his own architectural office. He also acted as a teacher at many prestigious technical schools in the USA, Israel and Vienna. The architect lives in Berlin and Tel Aviv. The designs of his buildings can be considered deconstructivist; on the one hand they are based on the function, on the other hand they are subject to symbolic and geometric principles and have an almost sculptural character.
His most famous projects include the Ramot Residential Complex, Jerusalem, Israel (1971–1975), Bat Jam Townhall, Israel (1960–1963), Spiral Apartment Building, Ramat Gan, Israel (1985–1989), Heinz Galinski Jewish School, Germany (1991–1995), Palmach Museum, Tel Aviv, Israel (1992–1998), collaboration with Rafi Segal; Jewish Cultural Centre, Duisburg, Germany (1996-2000); Palmach History Museum, Tel Aviv, (1993–1997), Queen Máxima Barracks, Schiphol Airport, Amsterdam, Netherlands (2001–2014).
In 1996, he was awarded the German Architecture Critics Award and the Rechter Award for Architecture in Israel in 1999. Since 2013, he has been an Honorary Fellow of the American Institute of Architects (AIA).
More at: www.zvihecker.com
Please confirm your participation by 6 May 2018 e-mail info@tugendhat.eu
Booking is required to the lecture by phone +420 515 511 015/017 or e-mail: info@tugendhat.eu
(limited capacity of 70 people).
The presentation will be in English.