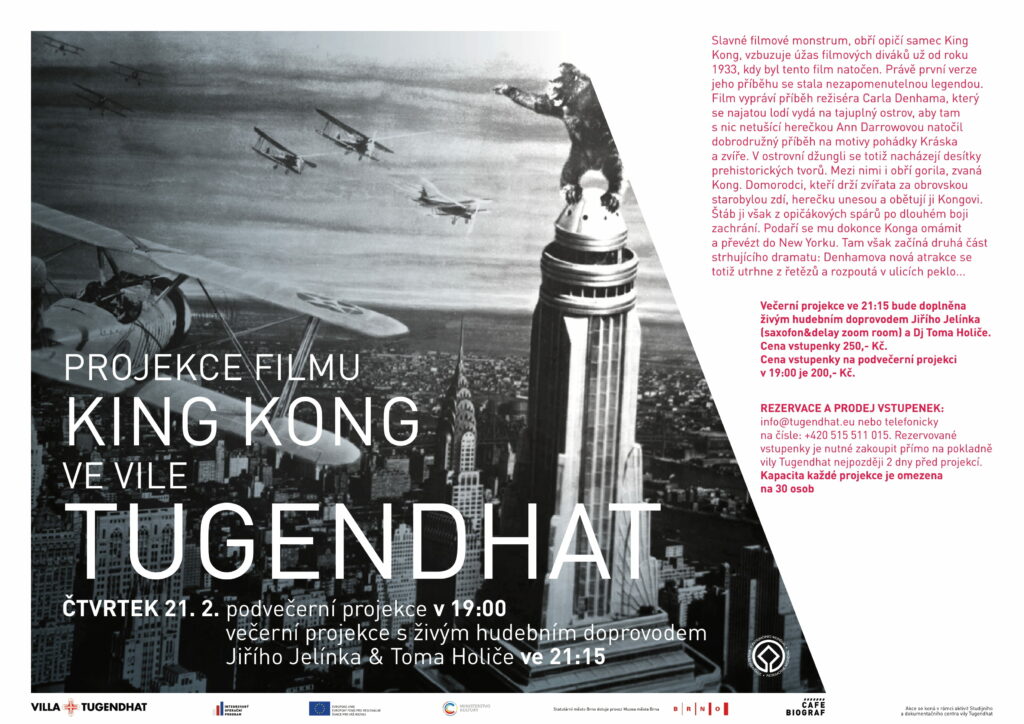 On Thursday, 31 February 2013 at 7 p.m. and 9:30 p.m. Tugendhat Villa will be the venue of a film screening, presenting King Kong from 1933 in the area directly behind the onyx wall.
The evening screening evening will be accompanied by live music with Jiří Jelínek (saxophone & delay zoom room) and DJ Tom Holič at 9:15 p.m..
A famous movie monster, a giant ape named King Kong instils the awe of moviegoers since 1933, when this film was made. It was the first version of his story that became an unforgettable legend. The film tells the story of director Carl Denham, who embarks on a journey to a mysterious island in a hired ship with an unsuspecting actress Ann Darrow, to film an adventurous story based on the fairy tale Beauty and the Beast. The island jungle contains dozens of prehistoric creatures. Among them, a giant gorilla called Kong. The natives, who keep the animals behind a huge ancient wall, kidnap the actress and sacrifice her to Kong. However, the crew rescues her from the ape's clutch after a long battle. They even manage to drug Kong and bring him to New York. There, however, begins the second part of the thrilling drama: Denham's newest attraction breaks free from his chains and unleashes hell in the streets…
Ticket price to the screening at 7:00 p.m. is CZK 200.
Ticket price to the screening with live musical accompaniment is CZK 250.
The capacity of one screening is limited to 30 people.
Tickets can be booked from 6 February 2013 by e-mail: info@tugendhat.eu or telephone: +420 515 511 015.
Reserved tickets must be picked up directly at the cash desk of Villa Tugendhat one day before the screening at the latest.
Stiletto heels are not permitted in the interior of the villa.
You can download the poster here.