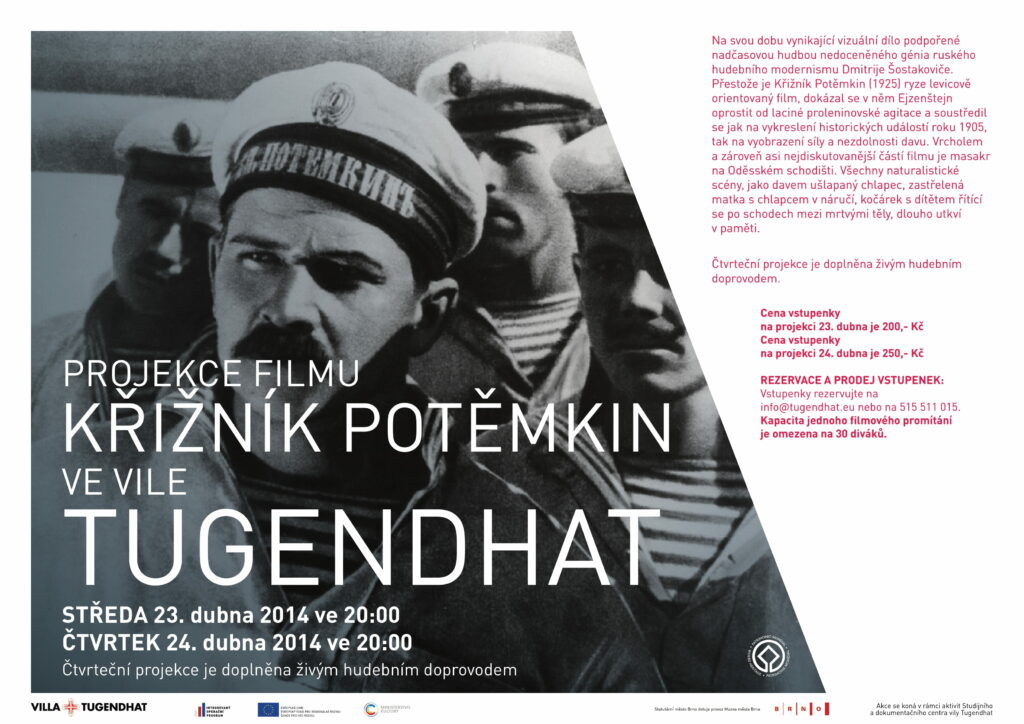 On Wednesday, 23 April at 20.00 and Thursday 24 April 2014 at the same time, the main living room of The Villa Tugendhat will be the venue of another film screening, the Battleship Potemkin.
Although the film is purely leftist, Sergei Eisenstein was able to free himself from cheap pro-Leninist agitation and focused on illustrating the historical events of 1905, and the representation of the strength and resilience of the crowd. He applied avant-garde theatre techniques of crown mime, and new montage features in the film. The highlight and probably the most discussed part of the film is the massacre on the Odessa staircase. All naturalistic scenes, such as a boy trampled by the crowd, mother with a boy in her arms shot dead, a pram with a baby hurled down the stairs among the dead bodies, will be stuck in one's memory for a long time.
The originally silent film was sounded after twenty-five years since its inception with timeless music of the unappreciated genius of Russian modernism, Dmitri Shostakovich.
Thursday's screening is accompanied by live music.
Ticket price to the screening on 23 April is CZK 200.
Ticket price to the screening on 24 April with live musical accompaniment is CZK 250.
TICKET RESERVATIONS AND SALE:
reserve your tickets at info@tugendhat.eu or by phone at 515 511 015.
The capacity of one screening is limited to 30 people.
Stiletto heels are not permitted in the interior of the villa.
You can download a poster here.