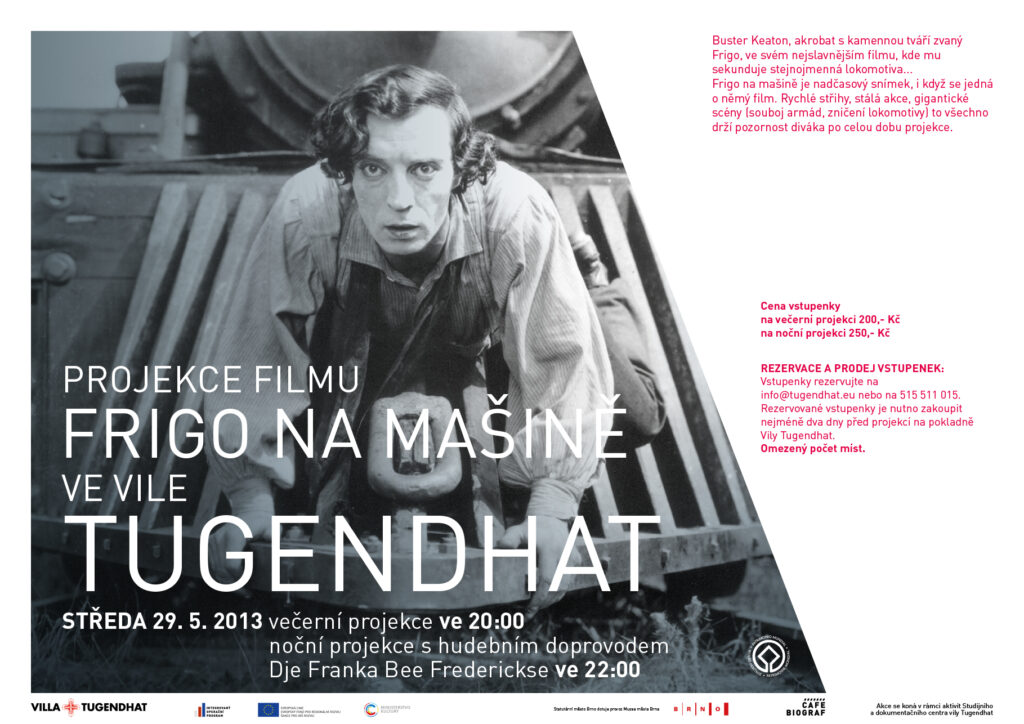 On Wednesday 29 May 2013, another screening from the period film series will be held in the main living space by the onyx wall in the Tugendhat Villa.
The night time screening is accompanied by live music by DJ Frank Bee Fredericks.
The film "The General" (1926) directed by Buster Keaton and Clyde Bruckman is a timeless piece, even though it is a silent film.
Buster Keaton, as a deadpan acrobat called Frigo, stars in his most famous film where he was seconded by an eponymous locomotive… Quick cuts, constant action, gigantic scenes (army battles, destroyed locomotive) all keep the viewer's attention throughout the screening.

Evening screening takes place at 8 pm.
Night time screening with musical accompaniment at 10 pm.
Ticket price to the screening at 7:00 p.m. is CZK 200.
Ticket price to the screening with live musical accompaniment is CZK 250.

The capacity of one screening is limited to 30 people.
Tickets can be booked from 6 February 2013 by e-mail: info@tugendhat.eu or telephone: +420 515 511 015.
Reserved tickets must be picked up directly at the cash desk of Villa Tugendhat one day before the screening at the latest.
Stiletto heels are not permitted in the interior of the villa.