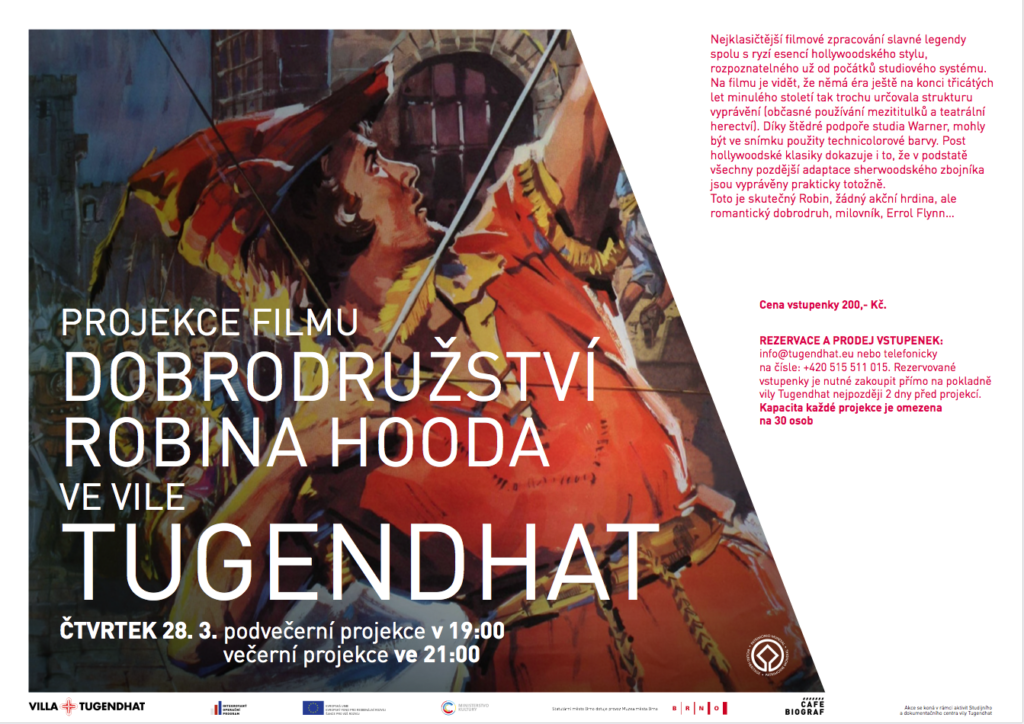 On Thursday, 28 March 2013, the living room of Tugendhat Villa will be the venue of another film screening.
This time we will be showing the Adventures of Robin Hood from 1938.
The most classic film version of the famous legend with pure essence of Hollywood style, recognizable from the beginning of the studios until now. The film shows that the silent era still determined the narrative structure at the end of the 1930's (occasional use of intertitles and theatrical acting). Thanks to the generous support from Warner Studios, the film could use technicolours. Its position among Hollywood classics is also indicated by the fact that virtually all later adaptations about the Sherwood outlaw are narrated in virtually identical manner.
This is the real Robin, no action hero, but a romantic adventurer, lover, Errol Flynn …
Evening screening – 7 p.m.
Late night screening – 9 p.m.
Ticket price – CZK 200.
The capacity of one screening is limited to 30 people.
Tickets can be booked from 6 February 2013 by e-mail: info@tugendhat.eu or telephone: +420 515 511 015.
Reserved tickets must be picked up directly at the cash desk of Villa Tugendhat one day before the screening at the latest.
Stiletto heels are not permitted in the interior of the villa.