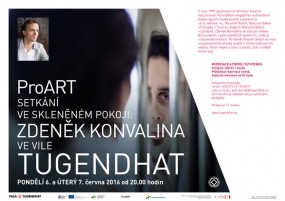 Zdeněk Konvalina
He graduated from the Brno Dance Conservatory in 1997. After a short engagement in Ostrava ballet he left Czech stages and swapped them for the world: Houston Ballet, National Ballet of Canada in Toronto, and English National Ballet in London among others. Zdeněk Konvalina has become for Brno one of the greatest ballet artists in the history of the city. After almost twenty years, he returns to Brno's imaginary stage in this exclusive evening. The evening will be not only about dance and ballet, but also about the world around him.
TICKET RESERVATIONS AND SALE
Admission: 400.- CZK
Prior reservation required, the capacity is limited to 50 persons.
Tickets can be booked by e-mail at info@tugendhat.eu
or by telephone at +420 515 511 015/017
Stiletto heels are not permitted in the interior.
Tickets are on sale from 17 May.