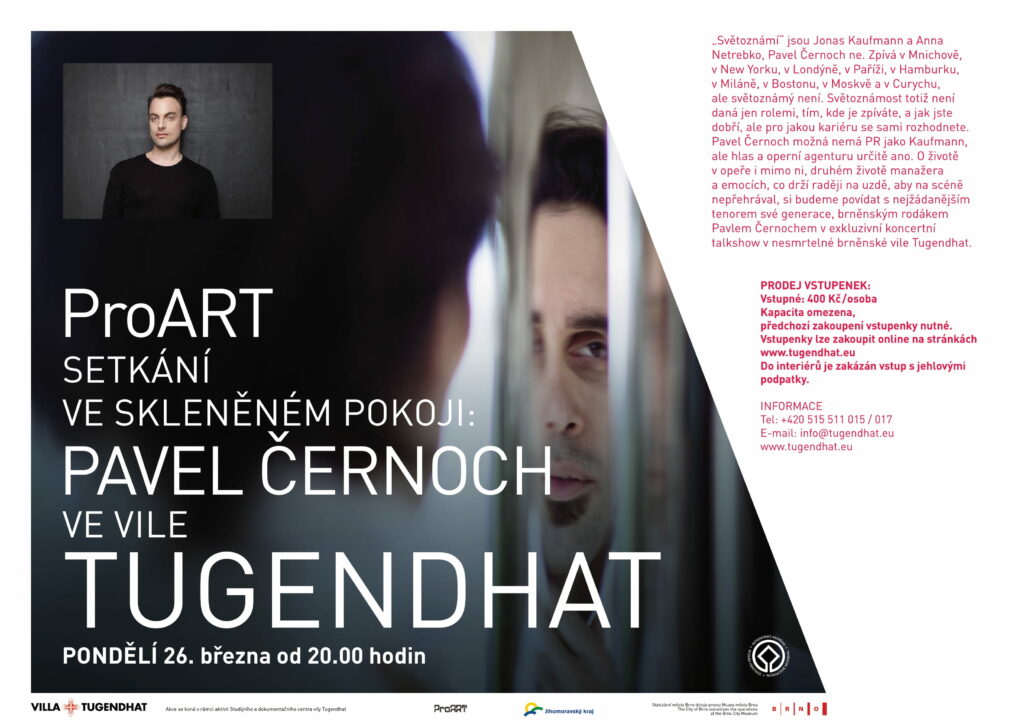 The cycle of regular meetings in the Glass Room, organized by the ProART Association, continues in Villa Tugendhat in 2018. The first guest of moderator Martin Dvořák will be the tenor Pavel Černoch. This native of Brno, performing on stages of Paris, New York, London or Milan, will talk about his singing career, life in the opera but also outside it, in this unique talk show.
Tickets for this exclusive meeting in the unique living environment of Villa Tugendhat main living room are on sale from 1 February at www.tugendhat.eu, or by e-mail or telephone booking via the contacts listed below.
TICKETS:
Admission: 400 CZK per person
Capacity is limited, advance purchase of the ticket required.
Tickets can be purchased ONLINE from 1 February.
Do you have trouble purchasing tickets online? Before you write to us, please read our instructions HERE.
By booking a ticket the client confirms that they have been acquainted with the Rules and Options of Ticket Purchase, which are freely available here.
Stiletto heels are not permitted in the villa interior.
INFORMATION:
Phone: +420 515 511 015 / 017
E-mail: info@tugendhat.eu
A poster can be download here.