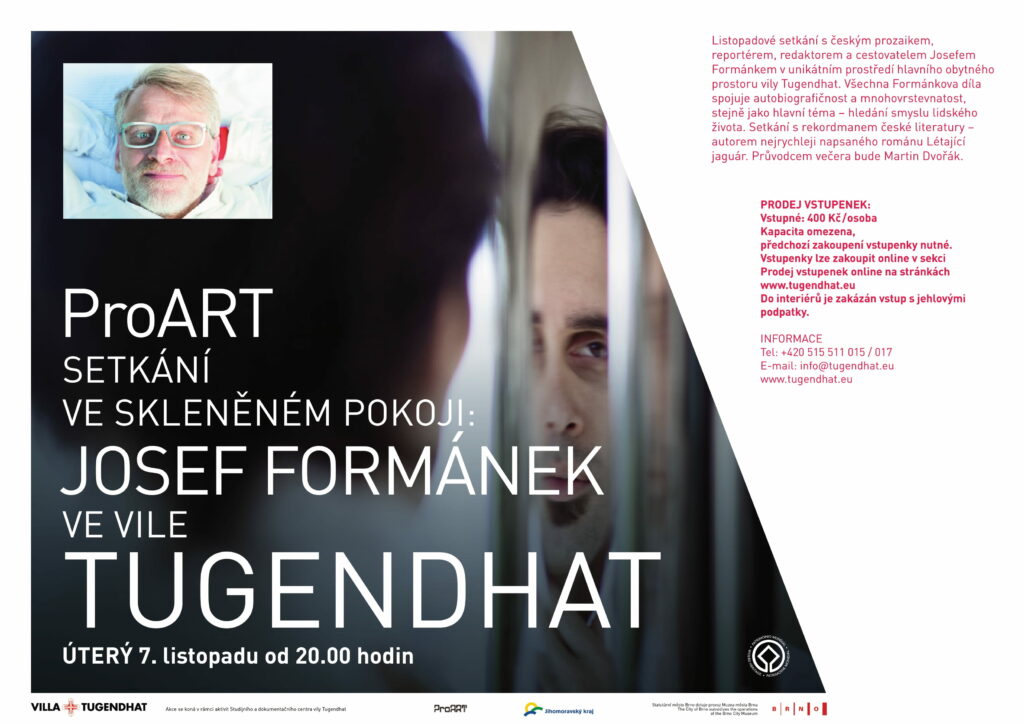 7 November 2017 at 20:00
A November meeting with Czech writer, reporter, editor and traveller Josef Formánek in the unique environment of the main living space of Villa Tugendhat. All of Formánek's works are linked through autobiography, multi-layering, as well as the main theme – the search for the meaning of human life. A meeting with the record-breaking writer of Czech literature – the author of the Flying Jaguar, the fastest-written novel. The evening will be led by Martin Dvořák.
"… I also know that everything good and bad that one does will return. It makes no sense to hurry. That some things will come to you, and some will not. One is the best counsellor to oneself and should rely on one's intuition. And when one often thinks of one's dreams and believes in them, there is a chance to touch them. One should not think so much about the past and the future, which is robbing us of the present that will once determine what will happen with us, and when we will only know, what has been important in what we have experienced… "
TICKET RESERVATIONS AND SALE
Admission: 400.- CZK
Capacity limited, previous purchase of the ticket required.
Tickets can be purchased online here.
Stiletto heels are not permitted in the interior.
INFORMATION
Phone: +420 515 511 015 / 017
E-mail: info@tugendhat.eu
A poster can be downloaded here.