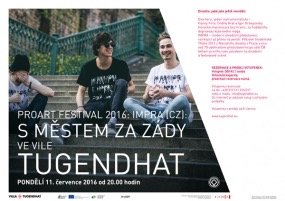 Two actors, one instrumentalist – Hanny Firla, Ondřej Král and Igor Ochepovsky. The actors' improvisations without borders, with musical accompaniment by a guitar magician.
IMPRA – modern theatre which evolves directly on the stage.
The winners of the 2015 Student Thalia in Prague's National Theatre with more than 70 performances throughout the country during the first year on the theatre and festival scene.
TICKET RESERVATIONS AND SALE
Admission: 300 CZK per person
Reservations: info@tugendhat.eu or tel. 515 511 015/017
Prior reservation required, capacity is limited.
Tickets are on sale from 8 June.
The concept and the wizard of the evening: Martin Dvořák
© photo: Impra: Marek Procházka