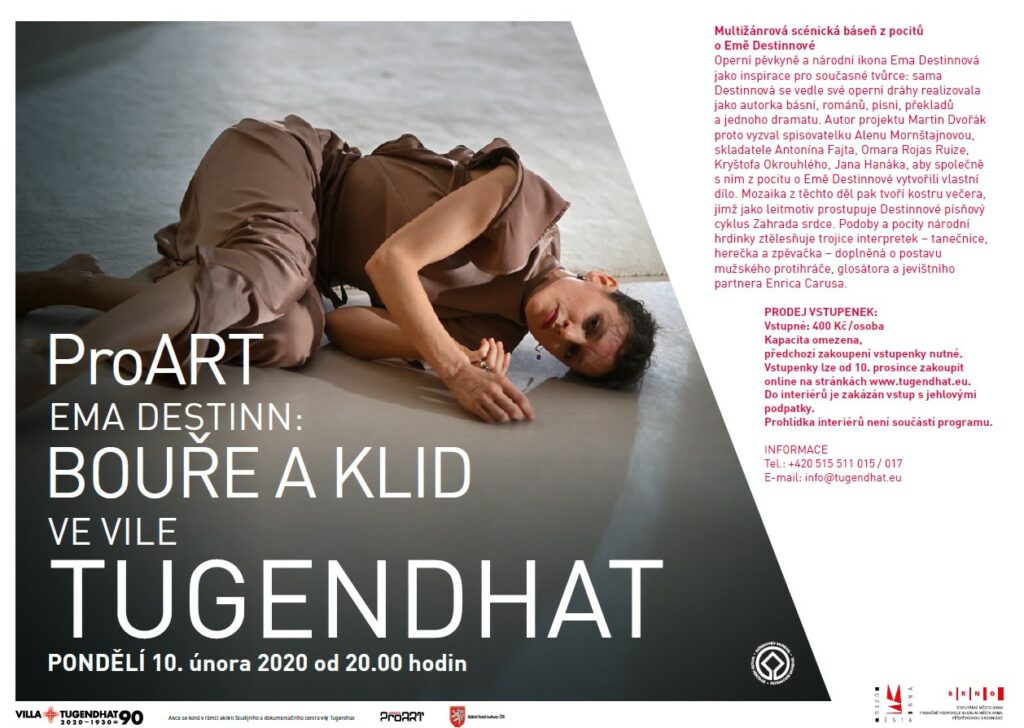 The mosaic of these works then forms the framework of the evening through which Destinn's song cycle Garden of the Heart permeates as a leitmotif. The forms and feelings of the national heroine are impersonated by a trio of performers – a dancer, an actress and a singer – complemented by the character of a male opponent, a glossary and a stage partner, Enrico Caruso.
Ema Destinn (1878–1930) – a world-famous Czech opera singer, composer, writer. A national heroine, a patriot. She started her international career in Berlin (Hofoper) and developed it in New York (The Met), London (Covent Garden), Paris (Theater du Chatelet) and finally in Prague (National Theatre).
Direction, theme, choreography: Martin Dvořák
Text: Alena Mornštajnová, Ema Destinn, Martin Dvořák, Adolf Wenig
Music: Ema Destinn, Antonín Fajt, Jan Hanák, Kryštof Okrouhlý, Omar Rojas Ruiz
Costumes: Jindra Rychlá
Performed by: Irene Bauer, Kateřina Beranová, Kateřina Jebavá, Martin Dvořák and Marta Vašková (piano).
TICKET SALE
Admission: 400 CZK / person
Capacity is limited, prior ticket purchase required.
Tickets can be purchased online at www.tugendhat.eu from 10 December.
A tour of the interiors is not part of the programme.
Stiletto heels are not permitted in the interior.
INFORMATION
Tel: +420 515 511 015 / 017
E-mail: info@tugendhat.eu