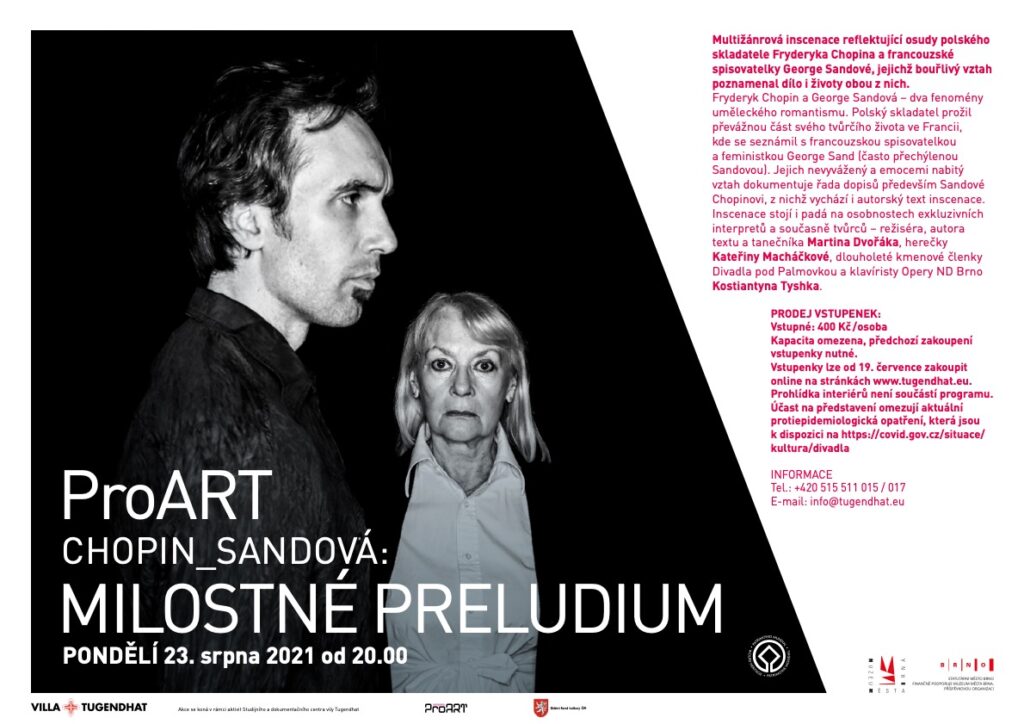 A multi-genre production reflecting the fates of the Polish composer Fryderyk Chopin and the French writer George Sand, whose tumultuous relationship marked the work and lives of both of them.
Fryderyk Chopin and George Sand – two phenomena of artistic romanticism. The Polish composer spent most of his creative life in France, where he met the French writer and feminist George Sand. Their unbalanced and emotional relationship is documented by a number of letters, especially by Sand to Chopin, on which the author's text of the production is based.
However, its form is not explicitly dramatic. It is a connection of all Chopin's preludes and Sand's stage monologue about her relationship with Chopin. On the stage, three genre-inconsistent personalities meet – an actress, a dancer and a musician – to lead a "mutual monologue".
The production stands and falls with the personalities of exclusive performers and at the same time creators of the production – director, author of the text and dancer Martin Dvořák, actress Kateřina Macháčková, long-time member of the Pod Palmovkou Theatre and pianist of the Brno National Theatre Kostiantyn Tyshko.
"The production is suggestive and brings many moments that the viewer can identify with, because the moments of balance, looking at their younger selves, come regularly many times in a lifetime and are not limited to the final review. A spectator, who longs for emotions, but at the same time for sophistication, will be satisfied. It is a multi-genre project, but not experimental or alternative theatre, it will not be shocking and drastic for those who are looking for an absolutely new view of the world, there is nothing shocking and drastic in it. It is reasonably realistic, reasonably non-narrative, minimalist, it tugs at some strings in a person, but does not tear them."
Lucie Kocourková, Opera+
Tickets
Admission: 400 CZK / person
Capacity is limited, prior ticket purchase required.
Tickets can be purchased online HERE from July 19.
A tour of the interiors is not part of the programme.
The presence of spectators on the event is limited by valid epidemiological restrictions which are available here.