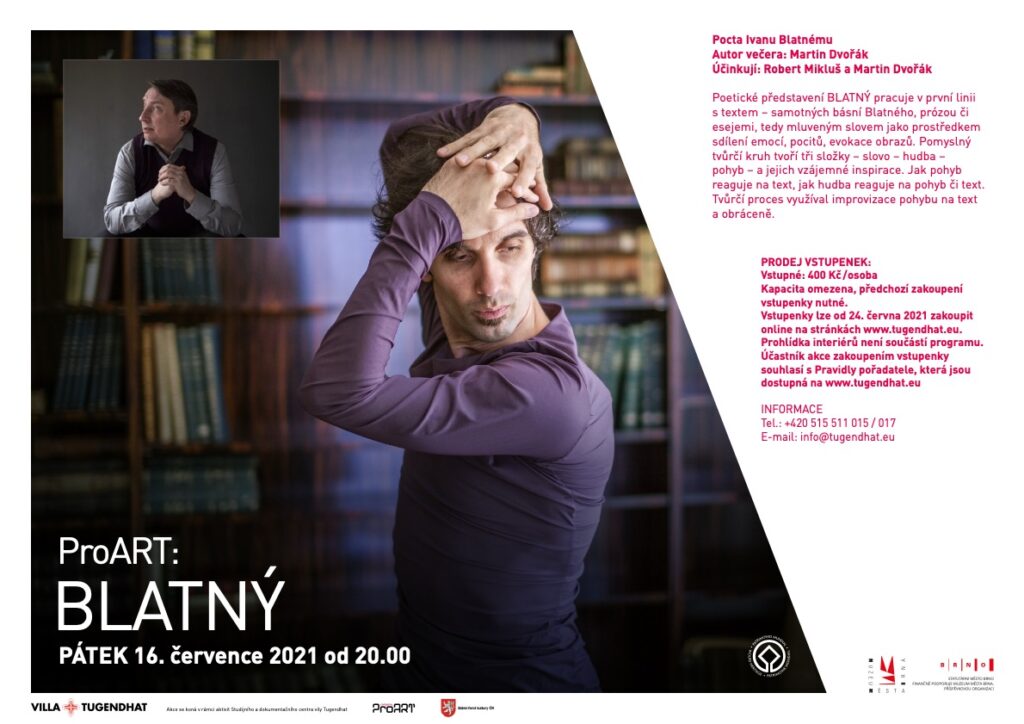 The poetic performance titled BLATNÝ works first and foremost with text – Blatný's own poems, prose or essays, i.e. the spoken word as a means of sharing emotions, feelings and evocation of images. The imaginary creative circle consists of three components: words – music – movement – and their mutual inspirations. How movement responds to text, how music responds to movement or text. The creative process used improvisation of movement to text and vice versa. The musical component is represented in a smaller part by the compositions of the poet's cousin, composer Pavel Blatný, who coincidentally has already "set to music" the book "Strange Loves" by Jiří Mucha. This is another link between the two parts, perhaps accidental, but quite obvious. Composer František Chaloupka worked with lyrics by Ivan Blatný. The dancer's movement is based on the text and only afterwards they set the movement to the music or only "next to it". The piece about Blatný has several parts that do not chronologically describe the poet's life, but rather create new artistic statements on the subject. It is a new staging approach with the aim of a multi-genre and artistic dialogue. The aim is to try to apply the creative practices of different artistic disciplines (theatre, dance, music, composition) to a different genre. To get to know and inspire each other.
The cast includes Robert Mikluš, actor of the National Theatre in Prague, and Martin Dvořák, a dance chameleon with years of international experience.
"Art is not an accessory to life, it's not notes along the margins. It can do without concern for its task. It is simply there, a reality equivalent to life, as incomprehensible as it is, surrounded by the same darkness, and it brings us moments of release even when it does not try to turn on the lights of so-called certainties in a boundless sea of darkness and inexplicability."
TICKET SALES
Admission: 400 CZK / person
Capacity is limited, advance ticket purchase required.
Tickets can be purchased online from 2 August 2021 at www.tugendhat.eu.
INFORMATION
Tel.: +420 515 511 015 / 017
E-mail: info@tugendhat.eu