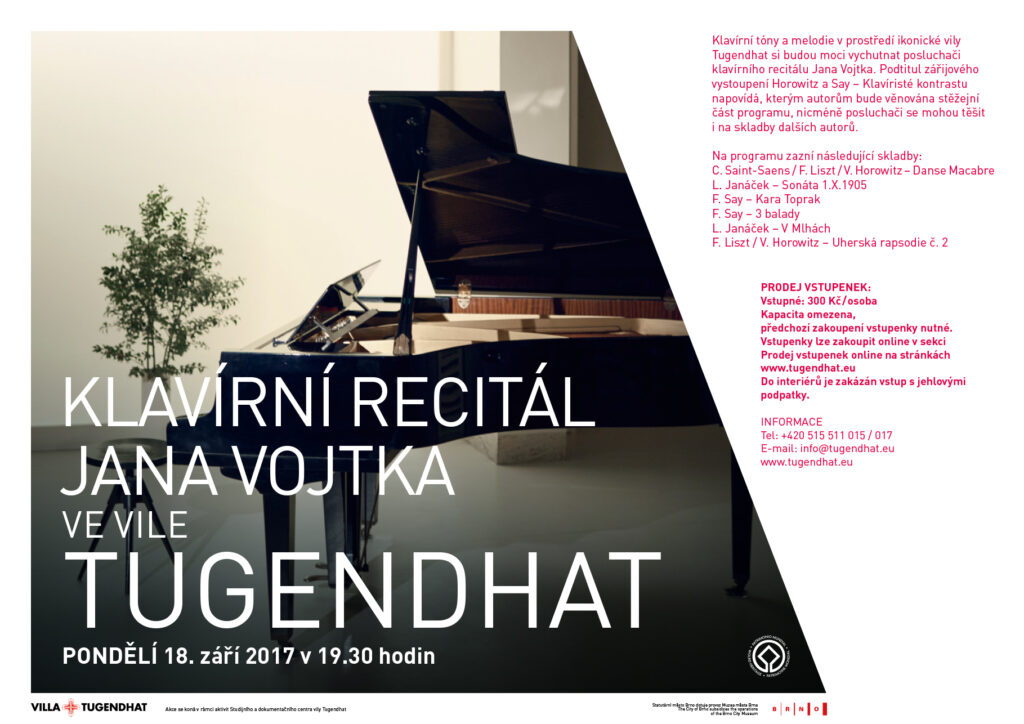 Tones and melodies on the piano will resound in the living room of Villa Tugendhat on 18 September 2017 from 19.30. A piano recital of the promising pianist Jan Vojtek carries the title Horowitz and Say – Pianists of Contrast. Vladimir Horowitz and Fazil Say will be the main focus of the concert; the audience can also look forward to pieces by Leoš Janáček or Claude Debussy.
The programme will include the following works:
C. Saint-Saens / F. Liszt / V. Horowitz – Danse Macabre
L. Janáček – Sonata 1.X.1905
F. Say – Kara Toprak
Interval
F. Say – Three Balads
L. Janáček – In the Mists
F. Liszt / V. Horowitz – 2nd Hungarian Rhapsody
Jan Vojtek
Jan Vojtek (b. 1995), native of Brno, inherited the musical talent after his mother, who has significantly contributed to the development of his musical talent. He sat down to the piano for the first time at the age of five. Distinctive flair and feeling for music was then recognized and developed by Jana Nováková at the František Jílek Art School in Brno. Under her leadership, he became a three times winner of the Amadeus International Competition in Brno (2002–2004), overall winner of the Prague Junior Note in Prague (2003) and the overall winner and holder of the Gradus ad Parnassum Grand Prix in Kaunas, Lithuania (2004). Since 2005 he studied with prof. Jiří Doležel of Janáček Academy of Music and Performing Arts. He has won international competitions in Košice and in Ústí nad Labem (2007). He gained vast experience through official participation in the Gina Bachauer international competition in Salt Lake City, USA (2008). He performed with the Brno Philharmonic Orchestra, the Moravian Philharmonic in Olomouc and also the Kaunas Symphony Orchestra in Lithuania. He spent the "Mozartian" tour of Japan with the orchestra of the National Theatre in Brno.
Hungarian roots of his father became an advantage for studying at the Béla Bartók Conservatory and Music Gymnasium in Budapest (from 2009). In 2011 he again achieved absolute victory in the international competition in Kaunas, Lithuania and became the absolute winner of the Hungarian secondary music schools National Competition. In 2012 he won the Young Piano of the Prague Conservatory international competition and for the first time participated in Tel-Hai international master classes in Israel, where he received the Marina Bondarenko award for the best graduate of the course. He also visited Israel in 2013.
Jan Vojtek currently studies piano at the Liszt Academy in Budapest. Besides music he loves airplanes and is interested in transport aviation since childhood. Insight and lightness coupled with impressive technique are some of the essential attributes of his piano playing.
TICKET RESERVATIONS AND SALE
Admission: 300.- CZK
Capacity limited, previous purchase of the ticket required.
Tickets can be purchased online here.
Stiletto heels are not permitted in the interior.
INFORMATION
Phone: +420 515 511 015 / 017
E-mail: info@tugendhat.eu