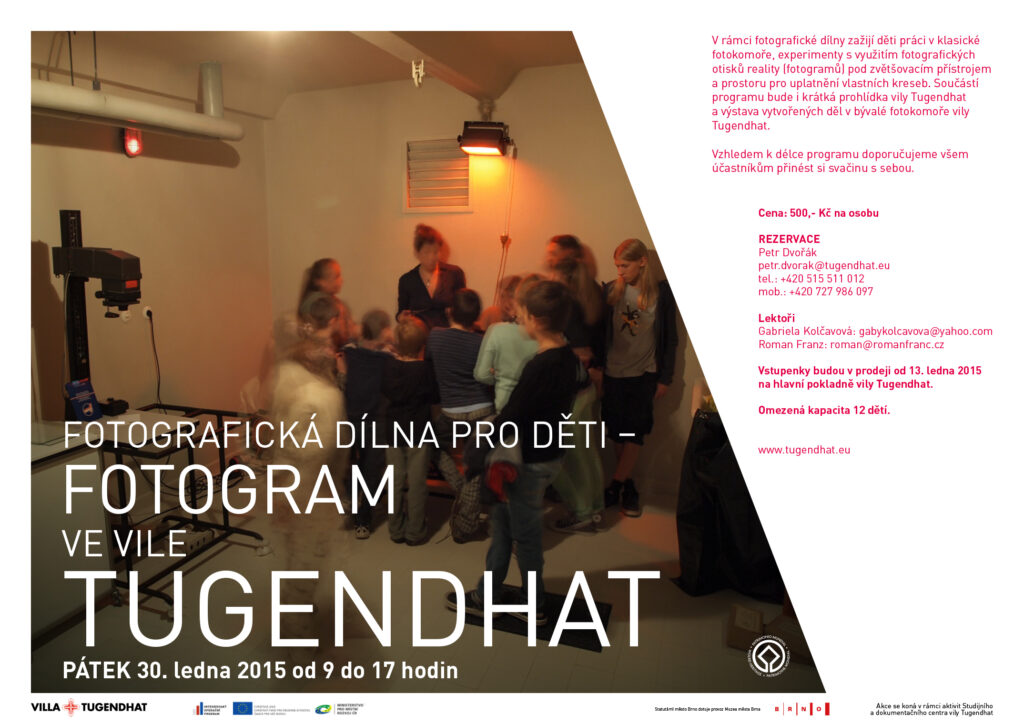 During the mid-term holiday, Villa Tugendhat offers children the opportunity to get to know the building in the form of an unconventional experience. The workshop is designed for children aged 9–14 years and runs from 9 to 17 p.m.
The photographic workshop will offer the children an experience of working in a classic darkroom, experiment using photographic imprints of reality (photograms) under the enlarger and also a space to use their own drawings. The programme will include a short tour of the Villa Tugendhat and an exhibition of works created in the former Villa Tugendhat darkroom. The programme will include a short tour of the villa.
Due to the length of the programme we recommend for all participants to bring a snack with them.
Price: 500 CZK per person
Tickets go on sale on 13 January 2015 at the main ticket office of Villa Tugendhat.
Limited capacity of 12 children. Previous registration required.
You can download a poster here.
Contact
Reservations:
Petr Dvořák
petr.dvorak@tugendhat.eu
tel.: +420 515 511 012
mob.: +420 727 986 097
Tutors:
Gabriela Kolčavová: gabykolcavova@yahoo.com
Roman Franz: roman@romanfranc.cz