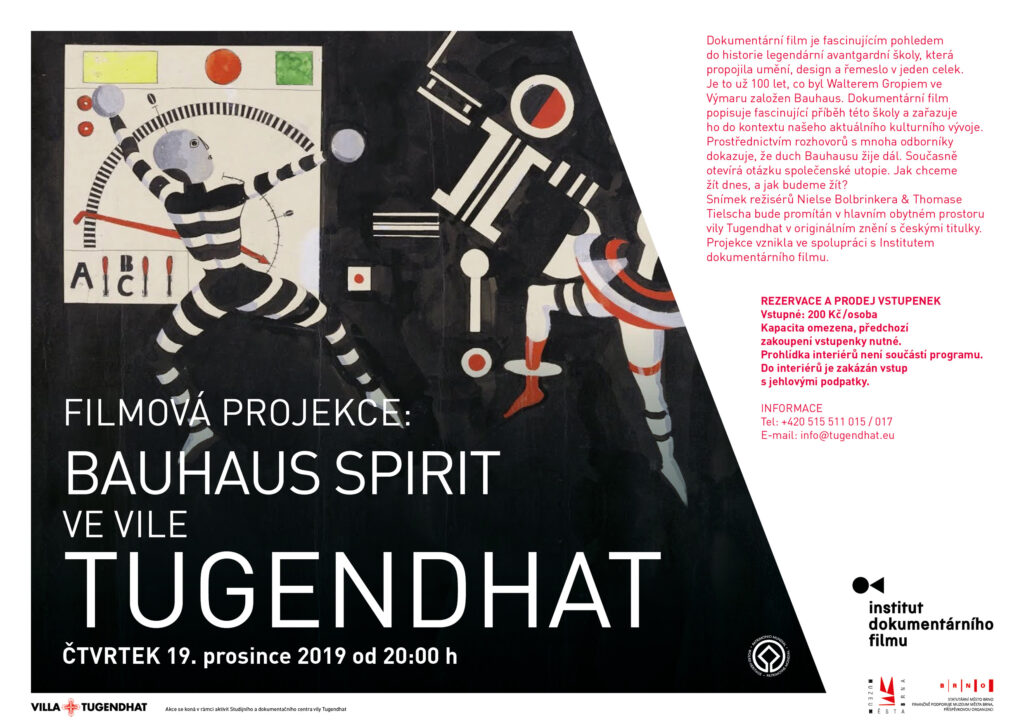 Thursday 19 December from 8 pm.
This documentary is a fascinating insight into the history of the legendary avant-garde school that has combined art, design and craft in one unit. It's been 100 years since Bauhaus was founded by Walter Gropius in Weimar. The documentary describes the fascinating story of this school and places it in the context of our current cultural development. Through interviews with many experts, it proves that the spirit of Bauhaus lives on. At the same time, it raises the question of social utopia. How do we want to live today, and how will we live?
The film by Niels Bolbrinker & Thomas Tielsch will be screened in the main living room of Villa Tugendhat in the original version with Czech subtitles.
The screening was organised in cooperation with the Documentary Film Institute
Documentary
Germany 2018
Director: Niels Bolbrinker & Thomas Tielsch
Duration: 94 minutes
Language: German with Czech subtitles
TICKET SALE
Admission: 200 CZK / person
Capacity is limited, advance ticket purchase required.
Tickets can be purchased online at www.tugendhat.eu.
A tour of the interiors is not part of the programme.
Stiletto heels are not permitted in the interior.
The film screening is linked to the Bauhaus • Women of Czechoslovakia exhibition, which can be seen on the technical floor of Villa Tugendhat just before or after the screening.