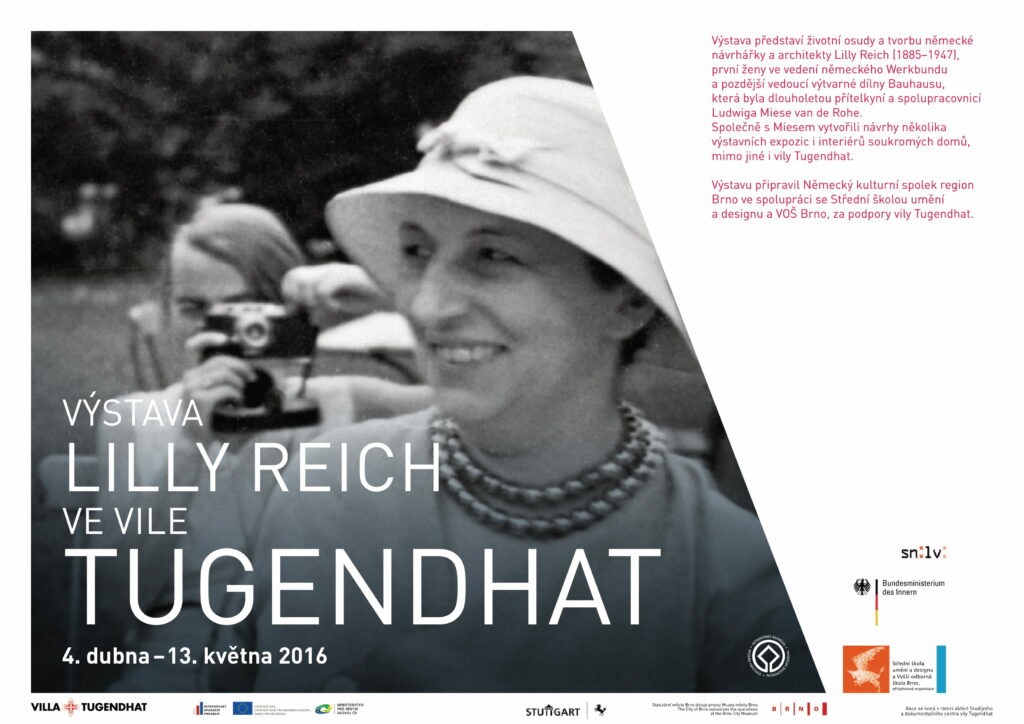 Lilly Reich was born on 16 June 1885 in Berlin, where she trained as an embroiderer. At the age of twenty-three years she got a job at the Wiener Werkstätte under Josef Hofmann. In 1911 she returned to Berlin, where she met Hermann Muthesius, founder of the German Works Association (Deutscher Werkbund), in the very next year she became a member, and in 1920 the first woman in the leadership of the Association.
In 1914 she co-founded the exhibition "House of Woman" at the Deutscher Werkbund exhibition in Cologne. Until 1924 she led the interior design and decorative arts and fashion studio in Berlin.
Subsequently, together with Ferdinand Kramer she conducted a study tour of new housing estates in England and Holland. Then she became head of the Exhibition Design and Fashion Studio in Frankfurt.
A pivotal meeting with Mies van der Rohe took place in 1926 during preparations for the exhibition of the German Works Association in Stuttgart. The success of the Stuttgart presentation brought the Association a prominent contract in managing the German section at the World Exhibition in Barcelona in 1929, for which they jointly prepared the exhibition pavilions.
Besides the Barcelona Pavilion and the exhibition, Mies van der Rohe began working on the design of the Villa Tugendhat in 1928, whose interior equipment, completed in 1930, was a joint effort of Mies and Lilly Reich.
In January 1932, Lilly Reich was appointed Head of the Department of Buildings, Exhibitions and Weaving at the Bauhaus in Dessau and later in Berlin, where she was active until the end of 1932.
Together with Mies van der Rohe, they were approached to create a national exhibition of the German textile and clothing industry in Berlin in 1937, which later became part of an exhibition of the textile industry in the German pavilion at the World Exhibition in Paris.
Subsequently, Mies van der Rohe went to Chicago, where Lilly Reich visited him in 1939. After returning to the Third Reich, which unleashed World War II, she was forced to work in the Todt Organisation, whose task was to build strategic military buildings. In the post-war years she taught the basics of interior design and architecture at the Academy of Fine Arts in Berlin. Until her death she also led the Architecture, Design, Textile and Fashion Studio in Berlin.
She died on 14 December 1947.
The exhibition was prepared by the German Cultural Association in Brno in cooperation with the School of Art and Design and tertiary technical school in Brno, with support by the Villa Tugendhat.
The exhibition will be open for visitors from 4th April to 13th Mai 2016 and it will be possible to see it as part of both guided tours and the gardens of the Villa Tugendhat.
You can download a poster here.