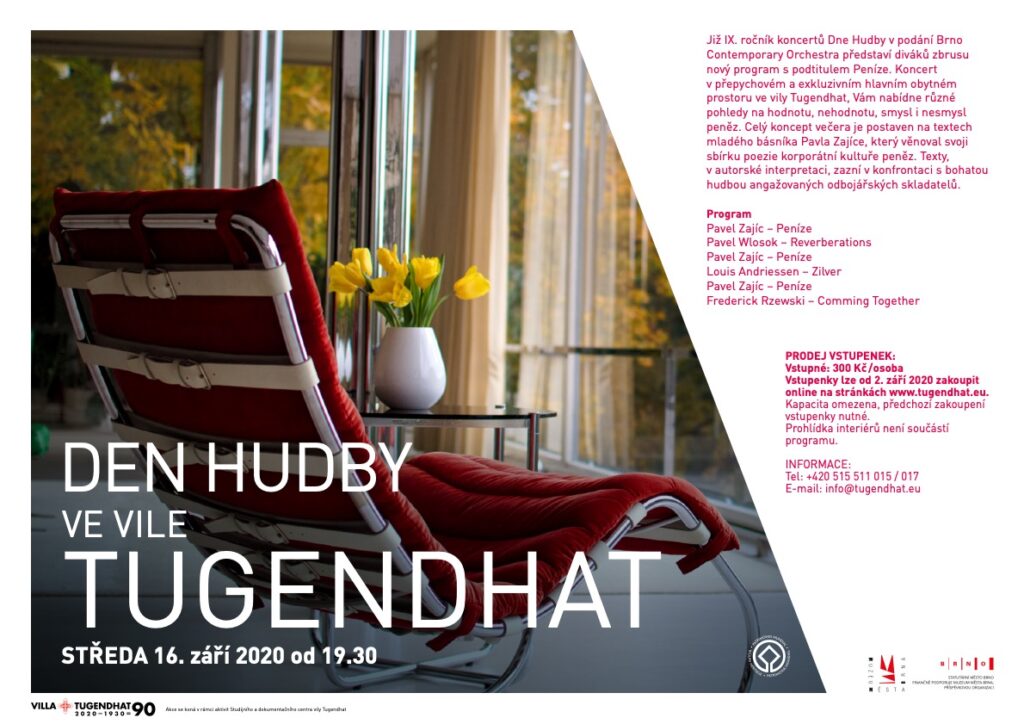 The concert in the luxurious and exclusive main living space in the Tugendhat Villa will offer you various views on the value, worth, meaning and nonsense of money. The whole concept of the evening is based on the texts of the young poet Pavel Zajíc, who dedicated his collection of poetry to the corporate culture of money. The lyrics, in the author's interpretation, will be heard in confrontation with the rich music of engaged resistance composers.
PROGRAMME:
Pavel Zajíc – Money
Pavel Wlosok – Reverberations
Pavel Zajíc – Money
Louis Andriessen – Zilver
Pavel Zajíc – Money
Frederick Rzewski – Coming Together
Cast:
Pavel Zajíc – recitation
Pavel Šnajdr – conductor
Brno Contemporary Orchestra
TICKETS
Admission: 300 CZK / person
Capacity is limited, prior ticket purchase required.
Tickets can be purchased online from www.tugendhat.eu from 2 September 2020.
A tour of the interior is not part of the programme.
INFORMATION:
Tel.: +420 515 511 015 / 017
E-mail: info@tugendhat.eu