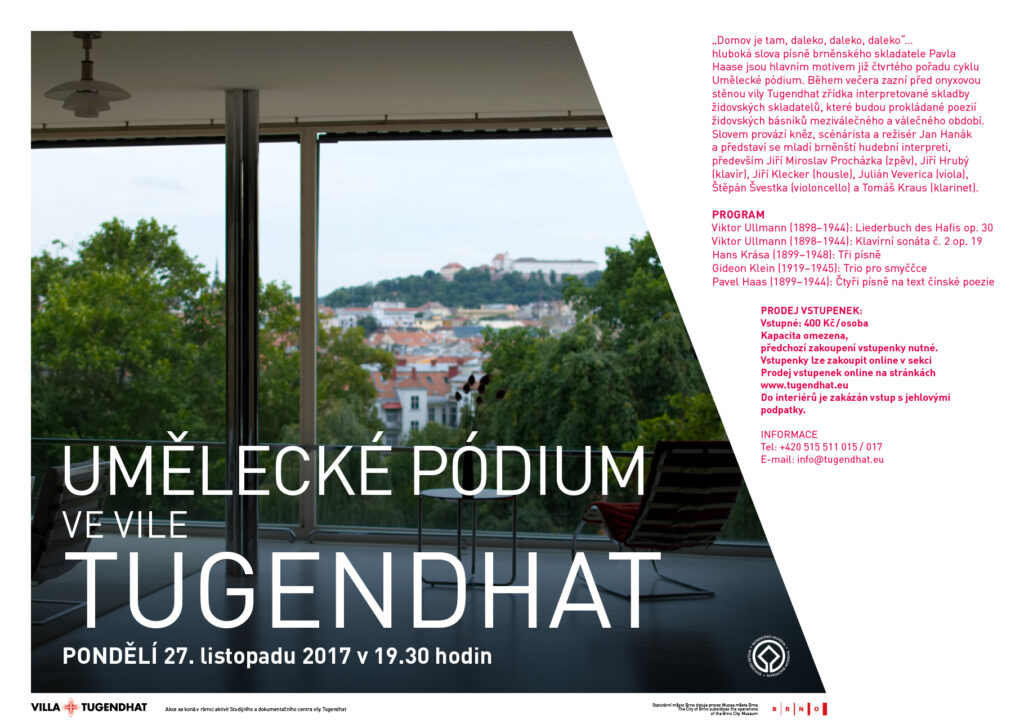 Monday 27 November from 7:30 p.m.
"Home is there, far, far away… " Deep words of a song by Brno composer Pavel Haas are the main motive of the fourth concert of the Art Stage cycle. During the evening, rarely performed works by Jewish composers will be heard in front of the onyx wall of Villa Tugendhat, interwoven with the poetry of the Jewish poets of the Interwar and War Periods. The evening will be compered by priest, writer and director Jan Hanák, and young Brno musicians, Jiří Miroslav Procházka (vocals), Jiří Hrubý (piano), Jiří Klecker (violin), Julián Veverica (viola), Štěpán Švestka (violoncello) and Tomáš Kraus (clarinet).
PROGRAMME:
Viktor Ullmann (1898–1944): Liederbuch des Hafis op. 30
Viktor Ullmann (1898–1944): Piano Sonata No. 2, op. 19
Hans Krása (1899–1948): Three Songs
Gideon Klein (1919–1945): Trio for Strings
Pavel Haas (1899–1944): Four songs with lyrics from Chinese poetry
TICKETS:
Admission: 400 CZK per person
Capacity is limited, advance purchase of the ticket required.
Tickets can be purchased ONLINE.
Stiletto heels are not permitted in the villa interior.
INFORMATION:
Tel: +420 515 511 015 / 017
E-mail: info@tugendhat.eu