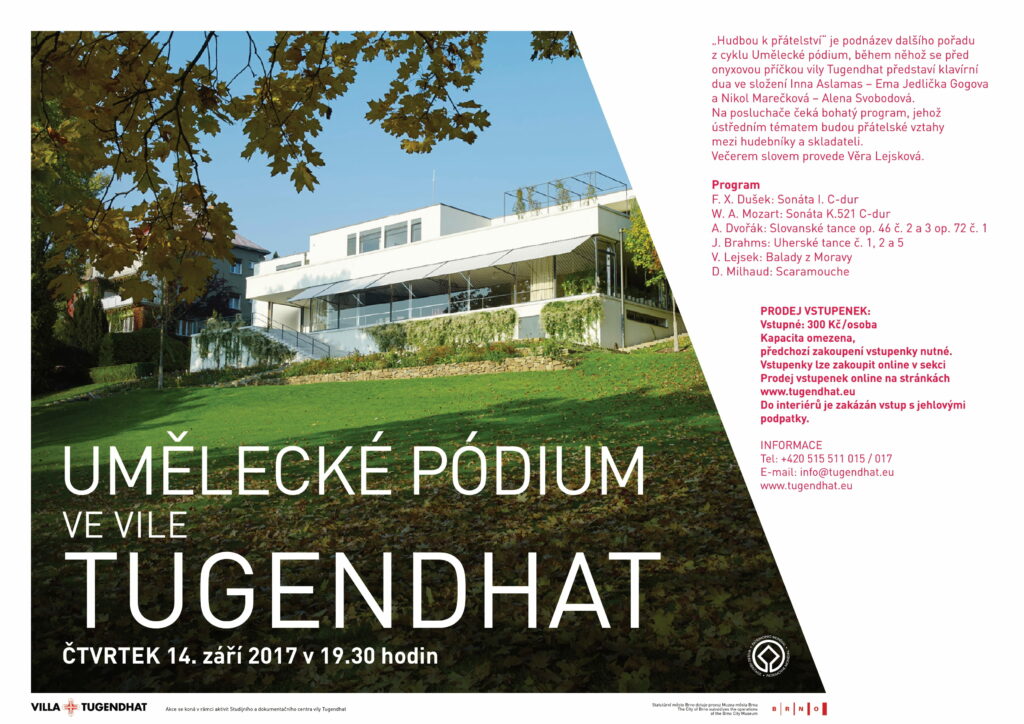 "Friendships Through Music" is the subtitle of another programme from the Artistic Stage cycle which will introduce two piano duos in front of the Villa Tugendhat onyx wall. Inna Aslamas – Ema Jedlička Gogova and Nikol Marečková – Alena Svobodová. The audience can expect a rich programme with a central theme of friendships between musicians and composers. People will thus have a unique opportunity to listen to pieces by F. X. Dušek – W. A. Mozart, A. Dvořák – J. Brahms, V. Lejsek or D. Milhaud, but also to passages from letters and discussions on deep friendships between composers and musicians in general.
The evening will be compered by Věra Lejsková.
Programme:
F. X. Dušek: Sonata I. C-Major
W. A. Mozart: Sonata K.521 C-Major
A. Dvořák: Slavonic Dances op. 46, nos. 2 and 3, op. 72, no. 1
J. Brahms: Hungarian Dances no. 1, 2 and 5
Interval
V. Lejsek: Ballads from Moravia
D. Milhaud: Scaramouche
TICKET RESERVATIONS AND SALE
Admission: 300.- CZK
Capacity limited, previous purchase of the ticket required.
Tickets can be purchased online here.
Stiletto heels are not permitted in the interior.
INFORMATION
Phone: +420 515 511 015 / 017
E-mail: info@tugendhat.eu
A poster can be downloaded here.